Image

Close Enough For The Angels
Join the Wisconsin Book Festival as Paul Madonna discusses his two new illustrated novels in conversation with Paul Buhle.
About Close Enough For The Angels: Emit Hopper was a one-hit wonder—twice. First as a rock and roller in the 80s, then as a literary darling in the 90s. Now it's twenty years later, and despite his desire to remain a simple laundromat owner, stardom has found him once again. As he's drawn back into the limelight he meets Julia, a former celebrity chef with an enigmatic past. But when she disappears while hiking with two other women, Emit finds himself chasing down a mystery that promises to leave him forever changed. From the artist and author of All Over Coffee and Everything is its own reward, Paul Madonna uses his signature blend of drawing and storytelling to deliver a beautiful and entertaining novel filled with suspense, surprise, and humor. With over one hundred lush and haunting drawings, this full-length, character-driven story is a fresh and innovative reinvention of the illustrated novel.
About On To The Next Dream: Paul Madonna's popular comic, "All Over Coffee" had been running for twelve years in the San Francisco Chronicle when he was evicted from his longtime home and studio in the Mission District, ground-zero in the "tech wars" transforming the city. Suddenly finding himself yet another victim of San Francisco's overheated boomtown housing market, with its soaring prices and rampant evictions, Madonna decided to use his comic as a cathartic public platform to explore the experience, and to capture the complex, highly charged atmosphere of a city—and a life—being forced through a painful transition. In a series of drawings and stories, Madonna evokes the sense of vertigo induced by being forced from his home, and the roil of emotions that ensue as he enters into the city's brutal competition for a place to live. The line between reality and surreality begins to blur almost immediately, in real life and in his comic. Absurd, maddening, and all-too-poignant, these drawings and stories capture the spirit of not just San Francisco, but a cultural epidemic that has now spread to cities around the world.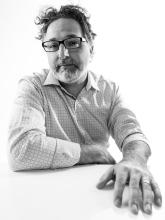 Paul Madonna is an award-winning artist and writer. He is the creator of the series All Over Coffee, which ran in the San Francisco Chronicle for twelve years, and the author of four books. His drawings and stories have appeared internationally in numerous publications as well as in galleries and museums, including the Oakland Museum of California, the San Francisco Contemporary Jewish Museum, and an upcoming solo exhibition at the Legion of Honor in San Francisco. Paul holds a BFA from Carnegie Mellon University and was the first (ever!) Art Intern at MAD magazine.
Recent Book
Close Enough for the Angels