Image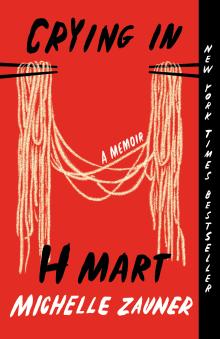 In this exquisite story of family, food, grief, and endurance, Michelle Zauner proves herself far more than a dazzling singer, songwriter, and guitarist. With humor and heart, she tells of growing up one of the few Asian American kids at her school in Eugene, Oregon; of struggling with her mother's particular, high expectations of her; of a painful adolescence; of treasured months spent in her grandmother's tiny apartment in Seoul, where she and her mother would bond, late at night, over heaping plates of food. As she grew up, moving to the East Coast for college, finding work in the restaurant industry, and performing gigs with her fledgling band -- and meeting the man who would become her husband—her Koreanness began to feel ever more distant, even as she found the life she wanted to live. It was her mother's diagnosis of terminal cancer, when Michelle was twenty-five, that forced a reckoning with her identity and brought her to reclaim the gifts of taste, language, and history her mother had given her.
Vivacious and plainspoken, lyrical and honest, Zauner's voice is as radiantly alive on the page as it is onstage. Rich with intimate anecdotes that will resonate widely, and complete with family photos, Crying in H Mart is a book to cherish, share, and reread.
Please note this event will be held at the Barrymore Theatre. It's free and open to the public. Seating is by general admission. Doors open at 6pm. A Room of One's Own Bookstore will be selling pre-signed paperback copies of the book to be purchased at the event. There will not be a signing or personalizations. Michelle is visiting Madison to celebrate the memoir's paperback publication. As such, this is a book event and not a Japanese Breakfast show so there will not be band merchandise for sale.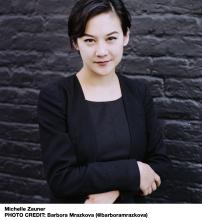 Michelle Zauner is best known as a singer and guitarist who creates dreamy, shoegaze - inspired indie pop under the name Japanese Breakfast. She has won acclaim from major music outlets around the world for releases like Psychopomp and Soft Sounds from Another Planet. Her most recent album, Jubilee, earned two GRAMMY nominations for Best New Artist and Best Alternative Music Album. Her first book, Crying in H Mart, is a New York Times Best Seller. She's currently adapting the memoir for the screen for MGM's Orion Pictures. 
Recent Book
Crying in H Mart