Image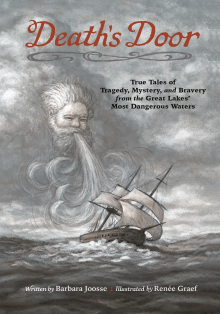 From top-selling creative team Barbara Joosse and Renée Graef, this beautifully illustrated graphic novel for children ages 8–11 relates dramatic moments from Great Lakes maritime history. The book's five true stories span four centuries but take place in one location: a stretch of water near Lake Michigan's notoriously dangerous western shore known as "Death's Door." 
Young readers will devour these tales of tragic accidents, mysterious disappearances, and heroic moments. Stories are narrated by Death's Door itself and feature a 17th century fur trading crew, an 18th-century Potawatomi trading party, a mail carrier and a shipbuilding family from the 19th century, and an early 20th-century basketball team. Some survive the dangerous passage; some do not.
An informative afterword provides insight into the author's sources and features archival images and additional historical details about each of the stories.
Copies of Death's Door will be distributed for free to all attendees courtesy the American Girl's Fund for Children.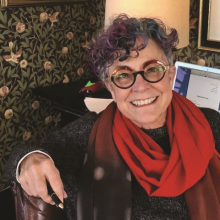 Barbara Joosse is the award-winning author of more than fifty books for children, including Mama, Do You Love Me? And I Love You the Purplest. She lives in Port Washington, Wisconsin.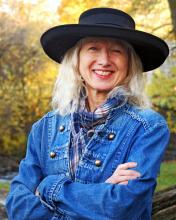 Renée Graef is an award-winning illustrator who graduated from the University of Wisconsin-Madison with a degree in art. She has illustrated over 80 books for children, including the Kirsten series in the American Girl collection and many of the My First Little House books by Laura Ingalls Wilder. Renée worked as an art director for the Little House program at Harper Collins for five years and enjoyed traveling to the Laura Ingalls Wilder sites. Renée has also illustrated classics such as The Nutcracker and My Favorite Things, as well as books about American icons: Mount Rushmore and Paul Bunyan. She has worked on books/cookbooks for Lidia Bastianich (of PBS's Lidia's Italy). Renée's most recent alphabet books are on timekeeping and on lighthouses of the Great Lakes. Renée worked with the Getty Museum in Los Angeles on Thèrése Makes a Tapestry, a historical fiction highlighting the weaving of tapestries during the 1670's in Paris. Ms. Graef's accomplishments have been honored by the Society of Illustrators-Los Angeles and the State of Wisconsin's House of Representatives, among other groups and her work has been exhibited in numerous solo shows. Renée splits her time between Milwaukee, Wisconsin and Los Angeles, California.
Recent Book
Sport: Ship Dog of the Great Lakes