Image
In The Final Silence, Rea Carlisle—daughter of influential Stormont politician Graham Carlisle—has inherited a house from an uncle she never knew. It doesn't take her long to clear out the dead man's remaining possessions, but one of the upstairs rooms remains stubbornly locked. When Rea finally forces it open, she discovers inside a chair, a table, and a leather-bound book, its pages filled with a host of chilling mementos, locks of hair, fingernails: a catalogue of victims. With THE FINAL SILENCE, Stuart Neville has once again written a crime story that succeeds at discussing complex social issues while maintaining a thrilling, twisty plot that is sure to keep readers at the edge of their seat.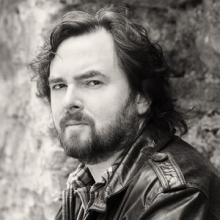 Stuart Neville's debut novel, The Twelve (published in the USA as The Ghosts of Belfast), won the Mystery/Thriller category of the Los Angeles Times Book Prize, and was picked as one of the top crime novels of 2009 by both the New York Times and the LA Times. He has been shortlisted for various awards, including the Barry, Macavity, Dilys awards, as well as the Irish Book Awards Crime Novel of the Year. He has since published three critically acclaimed sequels, Collusion, Stolen Souls and The Final Silence.
His first four novels have each been longlisted for the Theakstons Old Peculier Crime Novel of the Year, and Ratlines was shortlisted for the CWA Ian Fleming Steel Dagger.
Stuart's novels have been translated into various languages, including German, Japanese, Polish, Swedish, Greek and more. The French edition of The Ghosts of Belfast, Les Fantômes de Belfast, won Le Prix Mystère de la Critique du Meilleur Roman Étranger and Grand Prix du Roman Noir Étranger.
His fourth novel, Ratlines, about Nazis harboured by the Irish state following WWII is currently in development for television.
Recent Book
The Final Silence