Image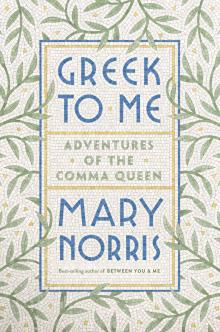 Community Rooms 301 & 302
Best-selling New York Times author and renowned New Yorker copyeditor—the Comma Queen herself—Mary Norris is again delighting readers with her wit, knowledge, and exploration of language in Greek to Me: Adventures of the Comma Queen. In this new memoir, Norris relates her life-long love of Greece, her quest to learn the language and master the mythology, and her travels through the Greek Isles in search of herself.
When Mary Norris was in fifth grade, the nuns at her Catholic school were offering a Saturday Latin class and she wanted to join. Her father refused, and she missed the chance. It wasn't until she got to college a decade later and took a course taught by the classicist Froma Zeitlin, where she read the Homeric Hymn to Demeter, that her desire to learn a dead language flared again. A handful of years later, while working in the copy department of the New Yorker, Mary told her boss Ed Stringham that she wanted to go to Greece. Stringham, it so happened, had a great love for Greece and had visited the country multiple times. He encouraged her to take Greek language courses—paid for by the magazine—and her obsession took flight. In true Comma Queen style, Norris opens the book with a chapter dedicated to the Greek alphabet and its evolution. She traces the alphabet's many iterations through the millennia as it was adopted by different cultures, who added some letters and jettisoned others. She explores how the modern English alphabet grew out of the Greek alphabet, tracing it from the Phoenician aleph bet, and describing how writing was born from a desire to preserve the stories and hymns of an oral culture.
As she studies Greek, Norris also reads widely in Greek mythology and history. These stories greatly influence her many trips to Greece. It is in Athena that Norris finds a role model for a independent woman. In Cyprus she searches out the spot in the sea where Aphrodite bathed. She never focused much on beauty, seeing only flaws when she looked in the mirror. Legend holds that if one swims out to the rocks of Aphrodite one will be transformed into an eternal beauty. She walks the Sacred Way, fourteen miles from Athens to Elefsina, to the sanctuary of Demeter, hoping to solve the Eleusinian Mysteries. She swims in the Aegean Sea and the Ionian Sea, rarely staying in one place for more than a few days, determined to discover more and wring every ounce from the experience. She takes boats and ferries and buses, communicating in elementary Greek and learning everything she can, about Greece and herself. Greek to Me is a brilliant, witty, and moving memoir. Norris's love of words inspires her treks through Greece—both the language and the country. Join her on her journey in Greek to Me as she navigates from Alpha to Omega.
Doors will open for this event at 6:00 PM. The event is free and open to the public. Seating will be by general admission.
Wisconsin Book Festival members will have the opportunity to reserve a seat at this event. Support the Festival with your membership gift today!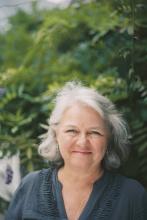 Mary Norris worked for the New Yorker as a copy editor and query proofreader for more than thirty years. Her first book, Between You & Me: Confessions of a Comma Queen, is a New York Times best-selling book about her years at the New Yorker. Originally from Cleveland, Ohio, Norris now lives in New York and Rockaway.