Image

I Can't Talk About the Trees Without the Blood & Gloss
The Wisconsin Book Festival celebrates two decorated graduates from the UW Program in Creative Writing with Tiana Clark and Rebecca Hazelton reading from their newest works.  
About I Can't Talk About the Trees Without the Blood: For prize-winning poet Tiana Clark, trees will never be just trees. They will also and always be a row of gallows from which Black bodies once swung. This is an image that she cannot escape, but one that she has learned to lean into as she delves into personal and public histories, explicating memories and muses around race, elegy, family, and faith by making and breaking forms as well as probing mythology, literary history, her own ancestry, and, yes, even Rihanna. I Can't Talk About the Trees without the Blood, because the speaker in this triptych book cannot engage with the physical and psychic landscape of the South without seeing the braided trauma of the broken past—she will always see blood on the leaves.
About Gloss: The poems of Rebecca Hazelton's contemporary American fantasyland revel in the constructed realities of movie sets and marriage. Poems reveal the negotiations of power and performance behind closed doors, between the sheets, and in contracts and scripts. The collection's three parts act out how we present ourselves through counterfeits, ornaments, and distorted self-portraits. Keen, wry, and playful, Hazelton's poems poke fun at the savagery buzzing underneath life's slicked-back surfaces and crack the veneer on our most brightly jarring cultural constructions. She confronts our need to constantly adjust our masks to appease impossible standards―and our desperate fear of having our true selves be seen and understood.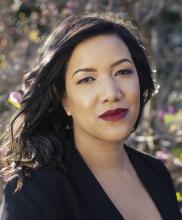 Tiana Clark is the author of the I Can't Talk About the Trees Without the Blood, winner of the 2017 Agnes Lynch Starrett Prize, and Equilibrium (Bull City Press, 2016), selected by Afaa Michael Weaver for the 2016 Frost Place Chapbook Competition. Clark is the winner of a 2019 Pushcart Prize, as well as the 2017 Furious Flower's Gwendolyn Brooks Centennial Poetry Prize and 2015 Rattle Poetry Prize. Tiana held the 2017-2018 Jay C. and Ruth Halls Poetry Fellowship at the Wisconsin Institute of Creative Writing.
Recent Book
I Can't Talk About the Trees Without the Blood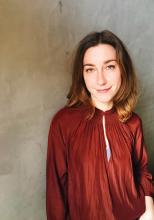 Rebecca Hazelton is an award winning poet and writer. She's the author of the New York Times New and Noteworthy book of poetry  Gloss,  Fair Copy (Ohio State University Press, 2012), winner of the 2011 Ohio State University Press / The Journal Award in Poetry, and Vow, from Cleveland State University Press. She was the 2010-11 Jay C. and Ruth Halls Poetry Fellow at the University of Wisconsin, Madison Creative Writing Institute and winner of the "Discovery" / Boston Review 2012 Poetry Contest.