Image
Presented in partnership with the FELIX Series of New Writing, Eileen Myles will discuss their latest book of poetry I Must Be Living Twice and their 1994 novel Chelsea Girls.
 
About I Must Be Living Twice: New & Selected Poems:
A collection of thrilling verse, including both new poems and beloved favorites, from the celebrated poet, modern cult icon, and author of Chelsea Girls. Eileen Myles' work is known for its blend of reality and fiction, the sublime and the ephemeral. Their work opens readers to astonishing new considerations of familiar places, like the East Village in their iconic Chelsea Girls, and invites them into lush—and sometimes horrid—dream worlds, imbuing the landscapes of their writing with the vividness and energy of fantasy. I Must Be Living Twice brings together selections from the poet's previous work with a set of bold new poems that reflect their sardonic, unapologetic, and fiercely intellectual literary voice. Steeped in the culture of New York City, Myles' milieu, I Must Be Living Twice is a prism refracting a radical world and a compelling life.
 
About Chelsea Girls:
In this breathtakingly inventive autobiographical novel, Eileen Myles transforms life into a work of art. Told in their audacious voice, made vivid and immediate in their lyrical language, Chelsea Girls cobbles together memories of Myles' 1960s Catholic upbringing with an alcoholic father, their volatile adolescence, their unabashed "lesbianity," and their riotous pursuit of survival as a poet in 1970s New York. Suffused with alcohol, drugs, and sex; evocative in its depictions of the hardscrabble realities of a young artist's life; and poignant with stories of love, humor, and discovery, Chelsea Girls is a funny, cool, and intimate account of a writer's education, and a modern chronicle of how a young female writer shrugged off the chains of a rigid cultural identity meant to define her.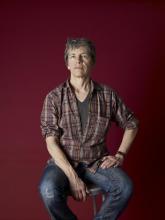 Eileen Myles is the author of nineteen books including I Must Be Living Twice: New & Selected Poems, and a reissue of Chelsea Girls, both out in fall 2015, from Ecco/Harper Collins. They are the recipient of a Guggenheim Fellowship in non-fiction, an Andy Warhol/Creative Capital art writers' grant, a Lambda Book Award, the Shelley Prize from The Poetry Society of America, as well as being named to the Slate/Whiting Second Novel List. Currently they teaches at NYU and Naropa University and lives in Marfa, TX and New York.
Recent Book
I Must Be Living Twice