Image
Presented in partnership with the Friends of UW Libraries, the alphabet is our common writing system, but few pause to consider its origin or history. Remarkable as it may seem, this set of signs that developed in a cultural exchange among people in the Ancient Near East now undergirds the Internet and global systems of communication. Tracking the alphabet across its four-thousand-year history also provides a study in transmission of knowledge—through textual, visual, archaeological, and bibliographic sources. This talk addresses the ways the understanding of the alphabet has changed as these methods of knowledge production bring new evidence and arguments into focus.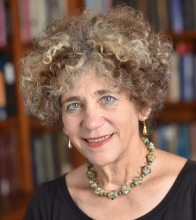 Johanna Drucker is Distinguished Professor and Breslauer Professor in the Department of Information Studies at UCLA. Sh has studied the history of writing as a visual form for forty years. She is internationally known for her work in the history of graphic design, typography, experimental poetry, fine art, and digital humanities. Drucker is also known for her artist's books, which were the subject of a travelling retrospective, Druckworks: 40 years of books and projects, in 2012-2014. In 2014 she was elected to the American Academy of Arts and Sciences.
In addition to her most recent book, Inventing the Alphabet, she is the author of many others, including Iliazd: Metabiography of a Modernist, Visualization and Interpretation. Digital Humanities Coursebook, and Graphic Design History: A Critical Guide, with Emily McVarish which has multiple editions and translations.
Recent Book
Inventing the Alphabet