Image

Nonfiction is a funny genre.  It's the only genre defined by what it's not.  It's not fiction, but what is it then? How far can a writer stretch a fact before it becomes a fiction?  And what are one's reasons for doing so?  Join nonfiction writers Matthew Gavin Frank and B.J. Hollars as they read from their newly released genre-bending books, as well as discuss their attempts and obligations to reach toward the always-nebulous limits of truth.
 
Following his critically acclaimed Preparing the Ghost, renowned essayist Matthew Gavin Frank takes on America's food. In a surprising style reminiscent of Maggie Nelson or Mark Doty, Frank examines a quintessential dish in each state, interweaving the culinary with personal and cultural associations of each region. From key lime pie (Florida) to elk stew (Montana), The Mad Feast commemorates the unexpected origins of the familiar. Brazenly dissecting the myriad intersections between history and food, Frank, in this gorgeously designed volume, considers politics, sexuality, violence, grief, and pleasure: the cool, creamy whoopie pie evokes toughness in the face of New England winters, while the stewlike perloo serves up an exploration of food and race in the South. Tracing an unpredictable map of our collective appetites, The Mad Feast presents a beguiling flavor profile of the American spirit.
 
Disturbed by stories of drownings in the river behind his home in Eau Claire, Wisconsin, writer B. J. Hollars combed the archives of local newspapers only to discover vast discrepancies in articles about the deaths. In homage to Michael Lesy's cult classic, Wisconsin Death Trip, Hollars pairs reports from late nineteenth- and early twentieth-century journalists with fictional versions, creating Dispatches from the Drownings, a hybrid text complete with facts, lies, and a wide range of blurring in between. Charles Van Schaick's macabre, staged photographs from the era appear alongside the dispatches, further complicating the messiness of history.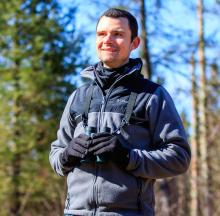 B. J. Hollars is the author of several books, most recently Flock Together: A Love Affair With Extinct Birds, From the Mouths of Dogs: What Our Pets Teach Us About Life, Death, and Being Human, as well as a collection of essays, This Is Only A Test. Additionally, he has also written Thirteen Loops: Race, Violence and the Last Lynching in America, Opening the Doors: The Desegregation of the University of Alabama and the Fight for Civil Rights in Tuscaloosa, Dispatches from the Drownings, and Sightings: Stories.
Recent Book
Flock Together: A Love Affair with Extinct Birds