Image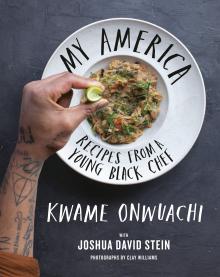 What is American food? In his first cookbook, Kwame Onwuachi ("the most important chef in America" —San Francisco Chronicle), the acclaimed author of Notes from a Young Black Chef, shares the dishes of his America; dishes that show the true diversity of American food. Featuring more than 125 recipes, My America is a celebration of the food of the African Diaspora, as handed down through Onwuachi's own family history, spanning Nigeria to the Caribbean, the South to the Bronx, and beyond. From Nigerian Jollof, Puerto Rican Red Bean Sofrito, and Trinidadian Channa (Chickpea) Curry to Jambalaya, Baby Back Ribs, and Red Velvet Cake, these are global home recipes that represent the best of the patchwork that is American cuisine. Interwoven throughout the book are stories of Onwuachi's travels, illuminating the connections between food and place, and food and culture. The result is a deeply personal tribute to the food of "a land that belongs to you and yours and to me and mine."
Copies of My America will be distributed for free to all attendees. The event is free and open to the public. Seating for the event will open at 6:00 PM. Kwame Onwauchi will appear in conversation with Jodie Pope, Community Engagement Officer at Madison College.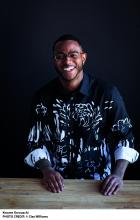 Kwame Onwuachi is a James Beard Award-winning chef, who was raised in the Bronx, Nigeria, and Louisiana. A former contest and now a recurring judge on Top Chef, Onwuachi has been named Esquire's Chef of the Year, one of Food & Wine's Best New Chefs, and a 30 Under 30 honoree by both Zagat and Forbes. He trained at the Culinary Institute of America and opened five restaurants before turning thirty. Onwuachi is the author of Notes from a Young Black Chef.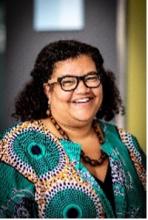 Jodie Pope is a Community Engagement Coordinator with Madison College.  She recently hosted a series, "Yams and Sweet Potatoes", which highlighted the culinary traditions of the African Diaspora to the United States.  The series featured three local chefs and the nationally known American culinary historian, college professor, cookbook author and journalist, Jessica Harris.