Image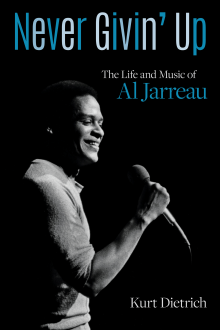 From his earliest days singing in the 1940s until his death in 2017, Al Jarreau defied categorization. One of the most distinguished and beloved musicians to come out of Wisconsin, he smashed music industry stereotypes as the first artist to win Grammy Awards in three genres: jazz, pop, and R&B. From his big pop hit, "We're In This Love Together," to the funky "Boogie Down," to his celebrated versions of modern jazz classics like "Spain (I Can Recall)," Al's songs convey his versatility and singular artistic vision. 
Never Givin' Up is the first book to chronicle Al Jarreau's life and career, from humble beginnings in his hometown of Milwaukee to international fame. Growing up as the fifth child in a musical family, he developed what would become a lifelong belief in the healing power of music. He established himself as a working musician during his student years at Ripon College and the University of Iowa and, also, in nightspots in Milwaukee, the Twin Cities, San Francisco, and Los Angeles. After he was signed by Warner Bros. Records in 1975 at the age of 35, Al achieved stardom with his innovative vocal stylings and electric live performances. 
Author Kurt Dietrich conducted interviews with dozens of Al's friends, fellow musicians, professional associates, and family members to create this biography full of behind-the-scenes stories about the making of the man and the music. Featuring images spanning Al's life, from family snapshots to stills from his legendary stage performances, Never Givin' Up celebrates a Milwaukee hometown hero and global sensation.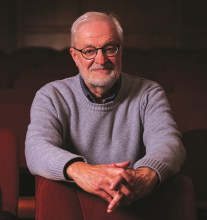 Kurt Dietrich is Professor Emeritus of Music at Ripon College, where he was Barbara Baldwin DeFrees Chair in the Performing Arts. He has written many articles and three books on jazz, including Wisconsin Riffs: Jazz Profiles from the Heartland from the Wisconsin Historical Society Press. He earned degrees from Lawrence University, Northwestern University, and the University of Wisconsin–Madison. He plays trombone with various groups around Wisconsin.
Recent Book
Never Givin' Up