Image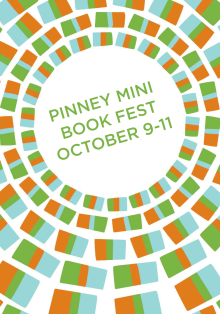 Pinney Mini Book Fest 2015
Meet local authors all weekend in a three-day extravaganza of local literary talent funded through a grant from Beyond the Page.
Friday, October 9, 6-8 pm - OPEN MIC NIGHT!
Authors of all abilities are welcome to participate in the Open Mic Night. Sign up to participate at the beginning of the evening.
Saturday, October 10, 1-9 pm and Sunday, October 11, 1-4 pm - AUTHOR READINGS
Each author has an assigned 15-minute slot to read from his or her book, describe the writing process, share inspiration, answer questions from the audience, etc. After every 3 authors, we'll have a 15-minute break for book selling and signing and to give authors a chance to meet and chat with audience members.
Saturday Schedule
Sunday Schedule