Image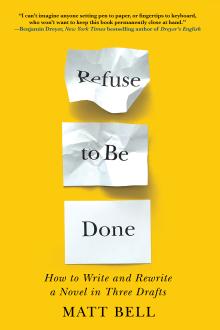 They say writing is rewriting. So why does the second part get such short shrift? Refuse to Be Done will guide you through every step of the novel-writing process, from getting started on those first pages to the last tips for making your final draft even tighter and stronger.
Refuse to Be Done is an encouraging and intensely practical guide, focusing on specific rewriting tasks, techniques, and activities to guide you through the first page of the first draft of your novel through to the finished book. You won't find bromides here about the "the writing Muse." Instead, in an approachable guide interwoven with examples and strategies from some of our greatest living writers, Bell breaks down the writing process into three sections, one for each of the three major stages of drafting. In the first section, Bell shares a bounty of tactics, all meant to push the writer through the initial conception and get words on the page. The second section, Bell explains, is focused on reworking the narrative through outlining, modeling, and rewriting. The third and final section offers a layered approach to polishing through a checklist of operations meant to be applied to a manuscript one at a time, breaking the daunting project of final revisions into small, achievable tasks.  
 
Whether you are a first time novelist or a veteran writer, you will find an abundance of strategies here to help motivate you and shake up your revision process, allowing you to approach your work, day after day and month after month, with fresh eyes and sharp new tools.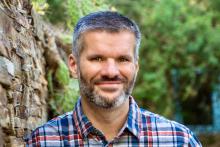 Matt Bell is the author most recently of the craft book Refuse to Be Done and the novels Appleseed (a New York Times Notable Book of 2021), Scrapper (a Michigan Notable Book), and In the House upon the Dirt Between the Lake and the Woods (a finalist for the Young Lions Fiction Award). His stories have appeared in Best American Mystery Stories, Esquire, Tin House, Conjunctions, Fairy Tale Review, Gulf Coast, and many other publications. A native of Michigan, he now teaches creative writing at Arizona State University.
Recent Book
Refuse to Be Done