Image

The Rib King & Milk Blood Heat
Presented in partnership with the University of Wisconsin Program in Creative Writing, this edition of Wisconsin Wednesdays features UW Alumnae Ladee Hubbard and Dantiel Moniz for their new novels, The Rib King and Milk Blood Heat. Join the event at: https://www.crowdcast.io/e/wbf-rib-king-milk-blood. Before the event begins, you will see a countdown and the event image.
About The Rib King: The acclaimed author of The Talented Ribkins deconstructs painful African American stereotypes and offers a fresh and searing critique on race, class, privilege, ambition, exploitation, and the seeds of rage in America in this intricately woven and masterfully executed historical novel, set in early the twentieth century that centers around the black servants of a down-on-its heels upper-class white family. For fifteen years August Sitwell has worked for the Barclays, a well-to-do white family who plucked him from an orphan asylum and gave him a job. The groundskeeper is part of the household's all-black staff, along with "Miss Mamie," the talented cook, pretty new maid Jennie Williams, and three young kitchen apprentices—the latest orphan boys Mr. Barclay has taken in to "civilize" boys like August. But the Barclays fortunes have fallen, and their money is almost gone. When a prospective business associate proposes selling Miss Mamie's delicious rib sauce to local markets under the brand name "The Rib King"—using a caricature of a wildly grinning August on the label—Mr. Barclay, desperate for cash, agrees. Yet neither Miss Mamie nor August will see a dime. Humiliated, August grows increasingly distraught, his anger building to a rage that explodes in shocking tragedy.  Elegantly written and exhaustively researched, The Rib King is an unsparing examination of America's fascination with black iconography and exploitation that redefines African American stereotypes in literature. In this powerful, disturbing, and timely novel, Ladee Hubbard reveals who people actually are, and most importantly, who and what they are not.
About Milk Blood Heat: A livewire debut from Dantiel W. Moniz, one of the most exciting discoveries in today's literary landscape, Milk Blood Heat depicts the sultry lives of Floridians in intergenerational tales that contemplate human connection, race, womanhood, inheritance, and the elemental darkness in us all. Set among the cities and suburbs of Florida, each story delves into the ordinary worlds of young girls, women, and men who find themselves confronted by extraordinary moments of violent personal reckoning. These intimate portraits of people and relationships scour and soothe and blast a light on the nature of family, faith, forgiveness, consumption, and what we may, or may not, owe one another. A thirteen-year-old meditates on her sadness and the difference between herself and her white best friend when an unexpected tragedy occurs; a woman recovering from a miscarriage finds herself unable to let go of her daughter--whose body parts she sees throughout her daily life; a teenager resists her family's church and is accused of courting the devil; servers at a supper club cater to the insatiable cravings of their wealthy clientele; and two estranged siblings take a road-trip with their father's ashes and are forced to face the troubling reality of how he continues to shape them. Wise and subversive, spiritual and seductive, Milk Blood Heat forms an ouroboros of stories that bewitch with their truth, announcing the arrival of a bright new literary star.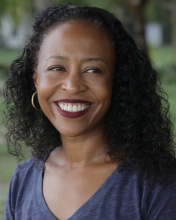 Ladee Hubbard is the author of The Talented Ribkins which received the 2018 Ernest J. Gaines Award for Literary Excellence. Her writing has appeared in Guernica, The Times Literary Supplement, Arkansas International, Copper Nickel and Callaloo among other venues. She is a recipient of a 2016 Rona Jaffe Foundation Writers' Award and has also received fellowships from Art Omi, the Sacatar Foundation, the Sustainable Arts Foundation, Hedgebrook, and the Virginia Center for the Creative Arts among other places. Born in Massachusetts and raised in the U.S. Virgin Islands and Florida, She currently lives in New Orleans with her husband and three children.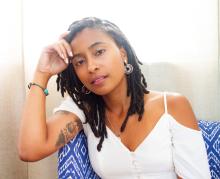 Dantiel W. Moniz is the recipient of the Alice Hoffman Prize for Fiction, the Cecelia Joyce Johnson Emerging Writer Award by the Key West Literary Seminars, and a Tin House Scholarship. Her fiction has appeared in Tin House, Ploughshares, the Yale Review, Joyland, McSweeney's Quarterly Concern, and elsewhere. Milk Blood Heat is her first book. She lives in Northeast Florida.
Recent Book
Milk Blood Heat