Image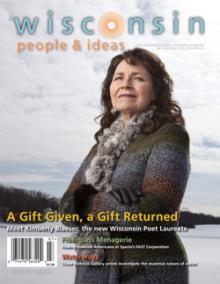 Wisconsin People & Ideas Writing Contest Reading 2015
Wisconsin People & Ideas publishes fiction and poetry from Wisconsin writers, highlights new works from Wisconsin visual artists and photographers, and covers science and environmental issues that affect Wisconsin's people, lands, and waters. The magazine also hosts annual fiction and poetry contests that award cash prizes up to $500, publication in the magazine, a reading at the Wisconsin Book Festival, and more. Since 1954, the independent Wisconsin People & Ideas magazine has been a trusted resource for people who care about the issues and ideas that shape life in Wisconsin. 
 
Featured poets include 2015 poetry contest winners Lisa Vihos (Sheboygan), Sean Avery (Madison), and Kathleen Dale (Milwaukee). Writers Nikki Kallio (Hortonville), Erica Kanesaka Kalnay (Madison), and Kathryn Gahl (Appleton) will read their prize-winning stories from the 2015 fiction contest as well.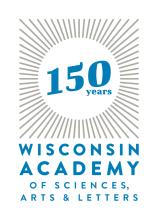 The Wisconsin Academy of Sciences, Arts & Letters produces programs and publications that explore, explain, and sustain Wisconsin thought and culture. Our signature publication is Wisconsin People & Ideas, the quarterly magazine of Wisconsin thought and culture; programs include the James Watrous Gallery in Overture Center for the Arts, which showcases contemporary art from Wisconsin; Academy Talks, a series of public lectures and discussion forums; Wisconsin Initiatives, exploring major sustainability issues and solutions; and a Fellows Program, which recognizes accomplished individuals with a lifelong commitment to intellectual discourse and public service. The Wisconsin Academy also supports the Wisconsin Poet Laureate Commission and many other endeavors that elevate Wisconsin thought and culture.