Image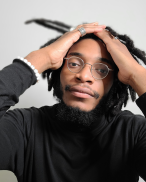 Deshawn McKinney is a writer reppin Milwaukee, Wisconsin. His work appears in journals such as Lolwe and Glass. His debut chapbook, father forgive me, was published by Black Sunflowers Poetry Press in 2021.
Deshawn has performed for and built with audiences around the world, including as one of the headlining acts at the Boys and Girls Club's Keystone Conference – one of the largest gatherings of teen leadership in the US – meeting with students in Kingston, Jamaica to share art and speak to collective freedom, and headlining Toast Poetry at the Norwich Arts Centre in Norwich, England with an exhilarating set that blended poetry and rap in novel ways. His work focuses on intersectional, diasporic liberation. He seeks to build coalition across peoples and movements to create sustainable, proactive, and effective bases of power. His art, grounded in hip-hop, is used to invite folks into the conversation and disrupt the status quo, with a focus on opening up spaces to those who have historically been absent or barred from them.
As a member of the First Wave Hip-Hop arts community at the University of Wisconsin-Madison he earned a BA in Creative Writing, pursuing his passion for service through his creative enterprises. He is a Truman Scholar, the nation's premier public service fellowship, as well as a recipient of the prestigious Marshall Scholarship for graduate study in the United Kingdom. He holds a Master in Social Policy from the London School of Economics and Political Science and a Master in Creative Writing – Poetry from the University of East Anglia.
Recent Book
father forgive me