Image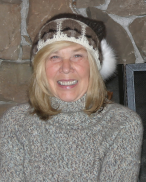 Jan Brett lives in a seacoast town in Massachusetts close to where she grew up. During the summer, her family moves to a home in the Berkshire Hills. She is a New York Times #1 bestselling author/illustrator, one of America's most popular, with over 44 million books in print, and has brought to life lovable characters and imaginary backdrops for children for more than 40 years. Her illustrations are adored for their classic beauty and vibrant, life-like images of animals, landscapes, and flourishes from cultures around the world. 
As a child, Jan Brett decided to be an illustrator and spent many hours reading and drawing. She says, "I remember the special quiet of rainy days, when I felt that I could enter the pages of my beautiful picture books. Now I try to recreate that feeling of believing that the imaginary place I'm drawing really exists. The detail in my work helps to convince me, and I hope others as well, that such places might be real." 
While Jan is most known for her children's books, she is also an award-winning breeder of ornamental fowl (fancy chickens!). Some of her best book ideas come from other interests including extensive travel and exploration of the natural world, marathon training, and while listening to the Boston Symphony Orchestra, where her husband is a musician.