Image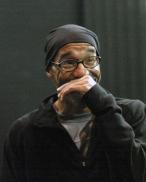 reg e gaines is a Tony Award nominated playwright and Grammy nominated lyricist of, Bring in da Noise/Bring in da Funk, a Heideman Award Finalist, The Beatles Killed Jazz, and winner of the 2003 Downtown Urban Theater Festival's Best Play Award, Other Aspects. Directing credits include, Jerry Quickley's, Live from the Front, Marcella Goheen's, BLAK, Regie Cabico's, Straight/ Out, The Brick City Players, Brick City Blues, Lisa Jesse Peterson/ La Bruja's, Lesson On The A Train, Aileen Reyes', Sadico, Underground Voices, and Other Aspects.  
reg has four books of poetry including, The Original Buckwheat and Abstract Sax, and his poems appear in the anthologies, Aloud: Voices From the Nuyorican Poets Café, The Outlaw Bible of American Poetry, Bum Rush The Page, African Voices, Bomb Magazine, The Paterson Literary Review, and City Works Magazine.  reg is editor of, A Year In Ink, Volume 8, 2015.  This former Nuyorican Poets Café Grand Slam Champ has read his poems on, The Arsenio Hall Show, Jon Stewart Show, MTV's Spoken Word Un-Plugged, Woodstock '94, MSNBC's Edgewise and Seasons Four/ Five  of HBO's Def Poetry.  His work as a composer includes the score for, Senior Year, a thirteen episode series for PBS.
reg has conducted his, Is Poetry Theater, workshops during residencies at New Jersey City University, Grossmont College, University of Southern California, Farleigh Dickinson University, Passaic County Community College, Miramar College, Southwestern College, San Diego City College, The World Stage, Oregon Shakespeare Festival, Luna Stage, LA City Stage, Nuyorican Poets Café, New Jersey Performance Arts Center, Beyond Baroque, New Jersey Juvenile Correctional Facility, Rosa Parks Performance Academy, Jersey City Performance Arts High School, Los Angeles Windward, Voz Alta Gallery, Jersey City Public Library, Montclair Public Library, San Diego Public Library, and Scratch DJ Academy, co-founded with Jam Master Jay and Rob Principe.  reg's solo performance piece, The Last Celebrity, premiered at Art House Production, February 2013. It has been produced in San Diego, Los Angeles, New York, New Jersey and is scheduled for performances during Black History Month 2015. reg is writing/ producing the Hip-Hop musical, FREE. It is scheduled for staged reading workshops at School of Excellence, South Bronx and Wadleigh Performance High School, Harlem, NY. September 2014.  reg will return for his seventh season as Artistic Director of the 2015 New York City Downtown Urban Theater Festival.