Image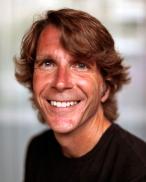 Scott Strazzante was born and raised in the shadows of the steel mills on the far southeast corner of Chicago.  The son of a tire dealer, Strazzante first became interested in photography when as a teen he started taking his dad's camera to Chicago White Sox baseball games.  Shortly after graduating from Ripon College in 1986, Strazzante started his career at The Daily Calumet. The next year, he began an 11-year run at The Daily Southtown in Tinley Park, IL.  In 1998, Strazzante moved on to the Joliet (IL) Herald News where, in 2000, he was named National Newspaper Photographer of the Year by the National Press Photographers Association and the Missouri School of Journalism.
Before arriving in San Francisco, Strazzante spent the past 13 years as a member of the Chicago Tribune photo staff.  Strazzante, an 11-time Illinois Photographer of the Year, has covered the Super Bowl, the World Series and three Olympic Games, but he is more proud of his work that uncovers small but universal moments in daily life. Strazzante was a part of the Chicago Tribune team that won a Pulitzer Prize in Investigative Reporting in 2007 for a series about faulty government regulation of dangerously defective toys, cribs and car seats.
Also in 2007, Strazzante's personal project "Common Ground" was honored with the POYi Community Awareness Award and 1st Place Feature video in the National Press Photographer Association's Best of Photojournalism.  In 2013, Strazzante's blog- "Shooting From the Hip" was honored with 1st Place in the Visual Column category of the National Press Photographer Association's Best of Photojournalism contest.
Recent Book
Common Ground