Image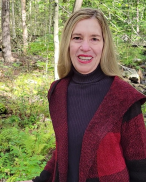 Rebecca A. Fannin is a journalist, author, and a media entrepreneur who has covered global innovation for more than 20 years. She grew up in the Ohio heartland and graduated from Ohio University. She began her career at the Dayton Journal Herald. Then from a reporter's cubicle at Crain Communications in Manhattan to the hottest dotcom magazine, Red Herring, in San Francisco, she ventured to Beijing and Shanghai, and became one of the first American journalists to document China's entrepreneurial rise. 
Inspired by the tech founders she interviewed, she formed Silicon Dragon Ventures as her own media and events group. During Covid she added an online show featuring venture capitalists. She became a regular contributor to CNBC, and her articles also have appeared in Harvard Business Review, Inc., Fast Company, and Forbes. 
Rebecca's forward-looking books Silicon Dragon, Startup Asia, and Tech Titans of China, launched her as a commentator and public speaker. A guest on BBC, Bloomberg, Fox News, and NPR, and a quoted expert in the New York Times, she also has spoken at the Brookings Institution, Asia Society, and many universities including Harvard, Yale, and Oxford. 
Recent Book
Silicon Heartland