Image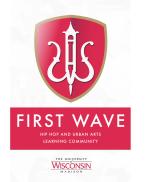 The First Wave Hip Hop Theatre Ensemble (FWTE) is a groundbreaking collective of spoken word poets, emcees, dancers, singers, actors, and activists from across the United States. FWTE represents the First Wave Hip Hop & Urban Arts Learning Community at UW-Madison, the world's first and only full tuition scholarship for Hip Hop and urbans arts. They create works that unpack the personal narrative as a route to academic engagement, artistic productivity and community engagement.
They have performed in England, Mexico, Panama, Africa, Australia, and Jamaica as well as across the USA including featured performances on Broadway and annual performance keynote at the Boys & Girl Club Keystone Conference.  Touring Members host workshops and performances in local and regional high school and community spaces.
FWTE Members for 2021-22 are Azura Tyabji (Seattle), Jackson Neal (Houston), Marjan Naderi (DC), Sarah Abbas (St. Louis), & Zachary Lesmeister (St. Louis).